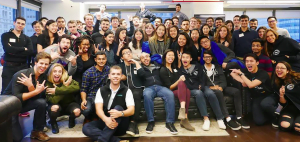 FluidAI (formerly NERv Technology) makes in Dorm Room Fund's Featured List
I didn't just leave Harvard last Sunday: it was also my final week as a partner at Dorm Room Fund. This exit post is about a few of the awesome startups, founders and partners that I was lucky to have worked with over the past year.
Built by students and backed by First Round Capital, DRF is a venture fund that supports startups across the entire university ecosystem.
I joined DRF as an investment partner in January. Since then, the Boston team has funded startups working on everything from a new type of 3D printing to blockchain-enabled cybersecurity. The first pitch I saw was by an HBS startup that went on to raise $3.5 million to launch low-earth orbiting satellites.
So much for the cliché about students only working on food delivery apps.
When I applied to the Boston team, DRF had only two biotech startups in a portfolio of over 120 companies — and both had been sourced by the team in Philadelphia.
Boston is the global heart of life sciences, largely because of the students at its world-class research institutes. I saw an opportunity to help local student-founders in biotech get started. I'd also just begun my own biotech startup, so I knew first-hand that the $20K provided by DRF can actually go a long way, even though biotech is far more capital intensive than apps or SaaS.
Many fundamental tools in biology have become inexpensive. Lab space and equipment are now affordable or free for entrepreneurial students. Reliable contract research labs make it possible to get data without your own bench. Good patent and corporate law firms will defer fees for promising startups. With data and a filed patent, it's feasible to pitch investors and accelerators.
Three new DRF companies — Pison Technology, C16 Bio, and NERv Technology — used this model to get started.
C16 Bio
C16 is developing a platform to engineer microbes that can produce valuable synthetic oils and biofuels. Their first target is a sustainable and affordable alternative to palm oil, which currently causes a host of negative social and environmental consequences. The team of four (three students from MIT and one from HBS) began with free lab space near MIT, where they designed and executed low-cost, high-yield experiments to validate their proposal.
With compelling data, C16 went to the Boston law firm Foley Hoag (the same firm we use at Nivien Therapeutics). Foley Hoag deferred the costs of C16's first patent. At DRF, we were impressed by C16's potential and the strength of the initial IP. C16 is now raising additional funding from angel investors.
NERv Technology
NERv prototyped an implantable biocompatible chip that can rapidly detect postoperative complications, a major source of patient suffering and healthcare costs in the surgical industry.
NERv first won non-dilutive funding via government and university grants and several business competitions. By working with a series of professors on different aspects of the technology, the startup scored initial bench-space, then year-long lab access via a university incubator. NERv is now preparing to raise a seed round to get their biochip approved for clinical testing.
Pison Technology
Pison developed a brain-computer interface with applications ranging from VR gaming to aid for people with disabilities. It's the world's first ultra-sensitive and wearable biopotential sensor. At MIT, the founders were able to find the type of space and support that has lowered the barrier-to-entry for companies like Pison. They also won a top prize from the ALS Association.
I went to the MIT Media Lab with a couple other partners to test Pison's technology. With the sensor, I was about to navigate the web and read a news article without voice control or any visible motion. Pison convinced me that brain-computer interfaces are technically feasible and will expand the horizon of human capabilities.
Two more new DRF companies, Elektra Labs and Reverie Labs, are software startups focused on healthcare and drug development.
Reverie Labs
Reverie uses advanced machine learning to predict the biophysicochemical properties of drug candidates for pharmaceutical companies. Reverie began while its founders were undergraduates at Harvard and MIT.
Jonah Kallenbach was the year above me at Harvard and widely-known for his talent in computer science. He's been working on similar problems since high school, when he won $75K at Intel for a program to predict protein-protein interactions.
Connor Duffy, who graduated from MIT this year with degrees in both CS and molecular biology, acquired relevant expertise at a wide range of top firms and research labs, as well as a first-author publication. Reverie recently added a third co-founder, Ankit Gupta, who has the same rare mix of know-how in machine learning and biology.
Elektra Labs
Started by recent graduates from HBS and HMS, Elektra is building a digital biomarker registry as part of a broader digital health play. Andrea Coravos, the Elektra CEO, and her co-founder Sofia Warner, are two of the most compelling founders I met at DRF.
Despite significant market risks, we were convinced by Andy's vision and she inspired all of us as a founder. We're also pretty sure we made the right call: the team just scored an NSF grant and a partnership with the renowned Computational Health and Informatics Program at Boston Children's.
After seeing a couple dozen pitches as a partner, I got the opportunity to sit on the other side of the table.
On a Friday morning in October, I drove down to the First Round Capital office in New York City to pitch my own company. (Partners can pitch DRF if they pitch a different team from a different city).
The stakes felt higher than the cash. If we didn't get funded, how would I and my fellow partners feel about my right to evaluate other startups? My Boston teammates reassured me that the qualities that make a good founder differ from those that make a good investor, but I was more nervous pitching the NYC team for $20K than when we'd pitched IndieBio for $250K.
It wasn't easy, either. The NYC partners saw straight to the key challenges of our business model and grilled us on every aspect. We ended up getting funded, but as I left the pitch I had no idea which way it would go.
More than a dozen other current and alumni DRF partners are working on their own startups.
There are too many cool partner-founded companies to talk about all of them, but I'll highlight three from the Boston team.
Athena Kan, the incoming managing partner of the Boston team, started Coding It Forward to bring young technical talent into government agencies. Last summer, Coding it Forward placed interns at agencies ranging from the US Census Bureau to the IRS, where they developed and launched several civic products like a platform for small businesses, which is now live here.
My former college roommate and our departing MP, Joe Kahn, is working with his co-founders Yasyf Mohamedali (also a former MP and the head of engineering at DRF) and Surya Bhupatiraju (a Google Brain Resident) to help the healthcare system transition towards value-based care.
Synapse Technology, founded by another former MP, Bruno Faviero from MIT, is applying deep learning to homeland security. Synapse stemmed from cognitive science and machine learning research by Bruno's co-founders Ian Cinnamon and Simanta Gautam, and the team was recently backed by Founders Fund and Village Global.
Having so many DRF partners involved in their own startups enables DRF to add value to our portfolio companies because so many of us are in similar situations. It's student-founders helping student-founders start the next generation of game-changing companies.
I'm excited to follow all of the startups funded by DRF, but I'm especially lucky to have worked with NERv, Pison, C16, Elektra and Reverie.
In the process, I fulfilled my mission of building support at DRF for companies that are working on advanced technologies to directly improve human health.
If you are a student-founder or you'd like to apply to be a partner, DRF is an awesome opportunity. Email me at nathaniel@generalbiotechnologies.com or contact any of the current partners to learn more.
— NBH
This post is part of a series of short essays about student entrepreneurship, VC, and translating scientific research into applied technologies. If you enjoyed reading this post check out the others below and feel free to get in touch!
Update: Nivien closed after 2 years. Read our story in The Washington Post.