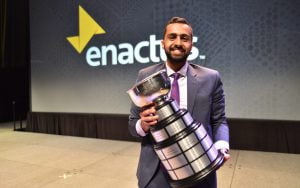 Amr Abdelgawad name Health-Tech Entrepreneur National Champion
VANCOUVER, BC (May 11, 2017) – Amr Abdelgawad, owner of NERv Technology Inc. and full-time student at the University of Waterloo, has won $10,000 and has been named 2017 Student Entrepreneur National Champion by this country's largest student leadership development organization, Enactus Canada, and proud program supporter, the John Dobson Foundation.
NERv Technology Inc. is a medical startup based out of the Waterloo Institute for Nanotechnology at the University of Waterloo. At NERv, they are developing the most technologically advanced system ever created to detect post-operative complications. Raven is an implantable biochip platform used to detect post-operative complications in real-time.
Amr Abdelgawad received the title of Student Entrepreneur National Champion after beating out hundreds of other student entrepreneurs from across Canada. After successfully making it through the Student Entrepreneur Opening Round of Competition, Abdelgawad went head to head with two other student entrepreneurs, pitching his business to a panel of business executives. He received the national title at the Enactus Canada National Exposition last night in Vancouver.
"Amr embodies the entrepreneurial spirit that built this country," said Enactus Canada president Nicole Almond. "The future of our country will continue to prosper if we celebrate and encourage these qualities in our next generation of young leaders."
The annual Enactus Canada National Exposition unites more than 1,500 delegates, including Canada's brightest post-secondary students, academic leaders, top entrepreneurs and CEOs. The three-day event recognizes the entrepreneurial action that students in Canada are taking to drive hundreds of life-changing projects in their communities. Whether tackling food insecurity or providing financial education, students share the impact of their efforts to panels of leading business executives serving as judges.
ABOUT THE ENACTUS CANADA STUDENT ENTREPRENEUR NATIONAL COMPETITION: To celebrate the entrepreneurial spirit of young Canadians, Enactus Canada runs the Student Entrepreneur National Competition, proudly hosted by the John Dobson Foundation. The Student Entrepreneur National Competition enhances the success of full-time students operating businesses, who are creating jobs and furthering investments in our economic future. In 2015-2016, Enactus Canada student entrepreneurs and their business ventures have employed 313 people and generated $2.8 million in revenue. Every year, student entrepreneurs present their businesses to panels of Canada's industry leaders in national competitions in order to be named Enactus Canada's Student Entrepreneur National Champion
ABOUT ENACTUS CANADA: Enactus Canada, this country's largest student leadership development organization, is shaping generations of entrepreneurial leaders who are passionate about advancing the economic, social and environmental health of Canada. Guided by academic advisors and business experts, more than 2,650 entrepreneurial post-secondary students led 288 community empowerment projects and business ventures this past year in communities coast-to-coast. As a global network of 36 countries, Enactus uses the power of entrepreneurial action to transform lives and shape a better, more sustainable world. For more information, visit enactus.ca.