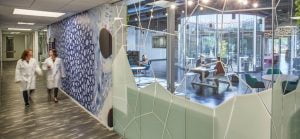 JLABS @ TMC Breakthrough Medical Technologies QuickFire Challenge
JLABS announced today at TMCx Demo Day 2019 that NERv Medical, PATH EX, and Solenic Medical have been selected as the award recipients in the JLABS @ TMC Breakthrough Medical Technologies QuickFire Challenge. The Challenge was designed to ignite innovation in health tech and provide the innovators with the best ideas resources to advance their science. The announcement was made by Allan Miranda, Head of JLABS Canada and Interim Head of JLABS @ TMC .
NERv Medical will receive one year of residency at the JLABS @ TMC from Johnson & Johnson Innovation. PATH EX will receive a potential investment of up to $250k from the Texas Medical Center Venture Fund, pending final diligence. Solenic Medical will receive admission into the TMCx Accelerator Program and be evaluated for potential investment from AngelMD. All awardees will receive access to the Johnson & Johnson Innovation – JLABS ecosystem.
NERv aims to create a paradigm shift in post-operative care, utilizing the plethora of data within the body, to detect post-operative complications at their onset. NERv's platform sensing technology has the potential to augment existing wound drains and catheters, providing healthcare providers with smarter, predictive tools that can enhance the delivery of healthcare.
PATH EX is focused on the diagnosis and treatment of sepsis through an extracorporeal pathogen extraction platform. Their devices use inertial force and a selective coating with the aim to separate & capture bacteria. PATH EX's platform has the potential to assist in identifying the bacteria causing infection in less than three hours, while also treating an entire patient's blood volume with a bacterial capture efficiency exceeding 99%.
Solenic Medical, Inc. is medical device company developing an innovative non-invasive treatment for infected metallic implants in the body using alternating magnetic fields. Solenic is leveraging the unique properties of alternating magnetic fields generated by external coils aiming to eradicate biofilm on the surface of medical implants. This non-invasive treatment has the potential to address major complications of surgeries such as (1) knee and hip replacements and (2) trauma related implants such as plates and rods.
For more information about the QuickFire Challenges, please visit: https://jlabs.jnjinnovation.com/quickfire-challenges.
About Johnson & Johnson Innovation
Johnson & Johnson Innovation, LLC focuses on accelerating all stages of innovation worldwide and forming collaborations between entrepreneurs and Johnson & Johnson's global healthcare businesses. Johnson & Johnson Innovation provides scientists, entrepreneurs and emerging companies with one-stop access to science and technology experts who can facilitate collaborations across the pharmaceutical, medical device and consumer companies of Johnson & Johnson. Under the Johnson & Johnson Innovation umbrella of businesses, we connect with innovators through our regional Innovation Centers; Johnson & Johnson Innovation—JLABS; Johnson & Johnson Innovation – JJDC, Inc.; and our business development teams to create customized deals and novel collaborations that speed development of innovations to solve unmet needs in patients. JLABS provides the laboratories, expertise, education, tools and resources needed to help life science startups thrive, all with no strings attached. A Johnson & Johnson Innovation Center for Device Innovation at the Texas Medical Center (CDI @ TMC) has been established to accelerate the development of medical devices. For more information about Johnson & Johnson Innovation, please visit: www.jnjinnovation.com.
About Johnson & Johnson Innovation – JLABS
Johnson & Johnson Innovation – JLABS (JLABS) is a global network of open innovation ecosystems, enabling and empowering innovators across a broad healthcare spectrum including pharmaceutical, medical device, consumer and health tech sectors to create and accelerate the delivery of life-saving, life-enhancing health and wellness solutions to patients around the world. JLABS achieves this by providing the optimal environment for emerging companies to catalyze growth and optimize their research and development by opening them to vital industry connections, delivering entrepreneurial programs and providing a capital-efficient, flexible platform where they can transform the scientific discoveries of today into the breakthrough healthcare solutions of tomorrow. At JLABS, we value great ideas and are passionate about removing obstacles to success to help innovators unleash the potential of their early scientific discoveries. JLABS is a no-strings-attached model, which means entrepreneurs are free to develop their science while holding on to their intellectual property. JLABS also produces campaigns to seek out the best science called QuickFire Challenges. For more information, visit www.jlabs.jnjinnovation.com or follow @JLABS.
About the Texas Medical Center
For the first time in the history of the Texas Medical Center, leaders throughout the TMC community have joined together in a visionary initiative to drive the next generation of life science advancements. Their goal: To become the world leader in health and life sciences by leveraging the collective power of TMC's renowned institutions in a shared, centrally managed environment. The result is a research collaborative unlike anything TMC has ever known or health care has ever seen.
The initiative is a natural extension of TMC's original mission to serve the health, education and research needs of Texas and the world. As health care's largest and most diverse community, TMC is positioned to make a difference in ways no other single institution can. By uniting its unrivaled resources and expertise, the Texas Medical Center can more readily drive the commercialization of breakthrough ideas, expand its reach as a global medical leader and ultimately transform human health.
About the TMC Innovation Institute and TMCx Accelerator Program
TMCx Innovation Institute , The Texas Medical Center's Innovation Institute is the first step in the Texas Medical Center's long-term plans to become one of the world's premiere life science commercialization clusters. The institute provides programs including the TMCx accelerator, which provides entrepreneurs the essential resources for growth including office and meeting space, training curriculum and an extensive advisor network comprised of business and legal experts, health care professionals, executives and investors. The inaugural TMCx program launched in Spring 2015. The Innovation Institute programs also include the year-long TMC Biodesign digital health and medical device fellowship and TMCx+ co-working space. For more information, visit www.tmcinnovation.org.
About AngelMD
AngelMD is an investment platform and marketplace connecting innovative medical startups with its network of physicians, investors, and industry partners. Leading physicians from all over the US have joined the AngelMD Scientific Advisory Board and Leaders Club to help source, evaluate and advise companies in biotechnology, medical device and healthcare technology. AngelMD makes investments through its AngelMD Syndicates and Catalyst Fund. For more information, visit www.AngelMD.com.