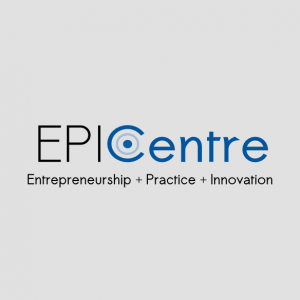 NERv named Runner Up In RBC EPIC Business Model Canvas Competition
On November 25th – 26th, EPICentre and the University of Windsor hosted the inaugural RBC EPIC Business Model Canvas Competition, a high-stakes contest that saw 15 teams of university students and recent graduates from across Ontario showcase their startups by utilizing the business model canvas approach for their product or service. Seven universities were represented including: Queens, Ryerson, Waterloo, University of Toronto, Wilfrid Laurier, OCAD University and University of Windsor.
The event kicked off with an icebreaker that allowed team members to get to know each other and was followed by a dinner with key note speakers Mary Kilfoil and Ed Leach, organizers of the Canada Business Model Competition. After dinner, teams were assigned mentors to help prepare for their presentations.
Teams presented their use of the Lean Startup Method, including the business model canvas, to win top prizes, including $10,000, an invitation to Canada's Business Model competition, consulting services from KPMG, Postmedia advertising and other cash and in-kind prizes. The teams in this year's competition included: U-Dimensions, RockMass Technologies, KI MADE, Cleanopy Inc., Curiato, Inovatus HR, Ezii Glasses, HelpWear Inc., NERv Technology Inc., ShiftRide, Babylon VR, H&F Foods, AMIS, Eigen Advertisement, and Walk-In Express. For a full list of team descriptions, please visit: http://www.epicbmc.ca/results/
The semi-finalist field was narrowed down to six finalists who each presented one last time for the grand prize. Congratulations to RockMass Technologies, the winners of the 2016 RBC EPIC Business Model Canvas Competition:
RBC Grand Prize Winner ($10,000): RockMass Technologies
RockMass Technologies enhances the process of geotechnical surveying and data acquisition by improving safety, efficiency, and accuracy. Their device automatically maps a rock face while the software analyses the data and breaks it down into key information that is used to determine the structural stability of a tunnel, mine shaft and/or rock face.
RBC Runner Up ($2,500): NERv
NERv is developing an implantable biochip platform to detect post-operative complications.
Postmedia People's Choice Award: NERv
WEtech Alliance Local Technology Award ($500): Walk-In Express
Walk-In Express is a suite of software tools that reduces patient wait times and improves the patient experience at Walk-In Clinics.
In order to make this event successful, a large number of volunteers from the local and Ontario business community graciously donated their time and expertise to serve as mentors and judges. EPICentre would like to thank everyone who participated for their continued support and involvement in student entrepreneurship. We would like to thank the following people:
| | |
| --- | --- |
| Judges | Mentors |
| Celso Oliveira, BDC | David Kirby |
| Debbie Landers, IBM Canada | Ed Roach, The Branding Experts |
| Diane Reko, Reko Tool | Federica Nazzani, Capital Assist |
| Ed Leach, Dalhousie University | Gerry Simpson, Polaris |
| Elena Valvasori, Avancez Assembly | Greg Drouillard, Target Building Materials |
| Enrico Notte, Sentier Systems | Jason Grech, KPMG |
| Frank Abbruzzese, Alphakor | Cathy Mombourquette, WEtech |
| Shelley Fellows, Radix | Tom Kenworthy, Odette |
| Karen Behune Plunkett, Pinpoint Strategic Direction | Marco Fiori, WEtech |
| Gary Kalaci, Alexa Translations | Laura Yu, Ontario Centres of Excellence |
| Meighen Nehme, The Job Shoppe | Paul Schlosser, Pareto Business Group |
| Keith Henry, Windsor Mold | Rob Whent, IRAP |
| Mary Kilfoil, Dalhousie University | Terra Cadeau, Hôtel-Dieu Grace Hospital |
| Marc Levesque, Centerline | Mike Murad, Pursue Sports |
| Richard Labelle, Allam Advisory | Brian Hendel, Splice Digital |
| Roseann Danese, Windsor Star | |
| Sandra Vasquez, RBC | |
Finally, we would not be able to run such a high-calibre event without the support of our sponsors. Thank you very much to the following: Royal Bank of Canada – event sponsor, Ontario Centres of Excellence and Ontario Network of Entrepreneurs, Postmedia and Windsor Star, Canada's Business Model Competition, KPMG, and WEtech Alliance.