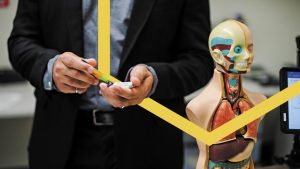 Waterloo startup testing nanotechnology to reach better postoperative patient outcomes
As a child, Youssef Helwa was mesmerized by his mother's stories about the patients she cared for as a surgeon. Those conversations became the inspiration behind his company, NERv Technology Inc. NERv is currently developing a smart monitoring system that will alert health-care providers to possible complications following abdominal surgery.
Currently, upwards of 33.5 per cent of all abdominal surgeries may have post-operative complications. The complications following abdominal surgery are typically clinically silent, presenting no symptoms until the issue becomes serious and life threatening with a mortality rate of more than 26 per cent.
"The best way to comprehend the problem is to think about the operative care journey for patients," says Helwa. "Patients come out of surgery, and unfortunately, a subset of these patients end up developing some sort of complication. They start becoming sick with symptoms, and the doctors have to start playing the game of investigating why these patients are feeling sick."
NERv's smart monitoring system removes some of that guesswork by helping caregivers identify leaks, bleeds or potential infections early. Detecting these silent issues before the onset of symptoms allows the health care provider to intervene before the complication becomes critical.
"Right now, the timeline between investigation of the root cause and treatment is a problem. If you can pick up on the complication from the point it manifests and intervene or change how you're administering care to the patient, you could end up with drastically different results."
Support through their university career and beyond
Helwa's path to creating NERv started at the age of 15. Helwa was living in Saudi Arabia when he learned about the Nanotechnology Engineering program at Waterloo. The following year, he began his studies and soon discovered the potential impact engineering could have on medical care. "I started to wonder if I could bridge engineering with current problems in medicine to come up with a way to have better results for how patients recover."
Helwa soon became friends with Amr Abdelgawad, and the two began to build a vision of how they would disrupt the field of medicine.
"Both of us come from families who are in medicine. Together we aligned our vision and our objectives to make something happen. We worked on our ideas throughout our undergrad program, and then during my masters, I had a supportive supervisor who empowered us to continue to work on the company. That gave us access to state-of-the-art research facilities and great minds who helped us tackle one challenge after another."
The growth of a biomedical ecosystem at Waterloo
When Helwa and Abdelgawad started to work on NERv, the ecosystem for medical devices was still new in the region.
"When we got started, there was a lot of knowledge and a lot of past experiences from software and hardware companies, but there weren't many medical device companies. The ecosystem advanced dramatically over the last five to seven years. The number of medical companies increased exponentially. Waterloo has been behind that change with the University's biomedical engineering program and places like Velocity and Medical Innovation Xchange helping health-care startups."
He credits the University of Waterloo with preparing him to build NERv Technology Inc. and embarking on the life of an entrepreneur.
"My time [at Waterloo] was a valuable transformational experience for me. It's not like I come from a family of entrepreneurs. Waterloo provided that strong entrepreneurial mindset and mentality."
The University of Waterloo is building out a pipeline for health innovation in Southwestern Ontariothanks to a $10-million investment from FedDev Ontario.
The investment will support a new partnership between Velocity, Western University, the City of Kitchener and Medical Innovation Xchange (MIX) to build a Southwestern Ontario Health Innovation network. This partnership will strengthen the Canadian tech ecosystem, specifically in the health and medtech sector by supporting innovators and entrepreneurs from start to scale.
Clinical trials and beyond
Today, Helwa is the Chief Executive Officer of NERv and he continues to focus on scaling his startup to a leading medical company. Abdelgawad is the Chief Operating Officer, and other Waterloo grads include Abdallah El-Falou, NERv's Chief Technology Officer, who works on the development of the organization's technology. Additionally, NERv's Research & Development Scientist, Mohamed Okasha who has contributed to the development of the sensor technology.
NERv is in the process of conducting clinical studies across North America, and the company has recently raised more than $3 million in funding. They hope to receive Health Canada approval in early 2022 and expect to have a global reach with their groundbreaking device.
"Very recently, we reached the point where our devices are functioning every minute of every day on patients somewhere in the world. The feedback has been incredible. We went into the clinical studies with certain expectations, and so far, it's been a blessing where we are surpassing every one of our expectations."
Originally posted at https://uwaterloo.ca/news/global-impact/waterloo-startup-testing-nanotechnology-reach-better