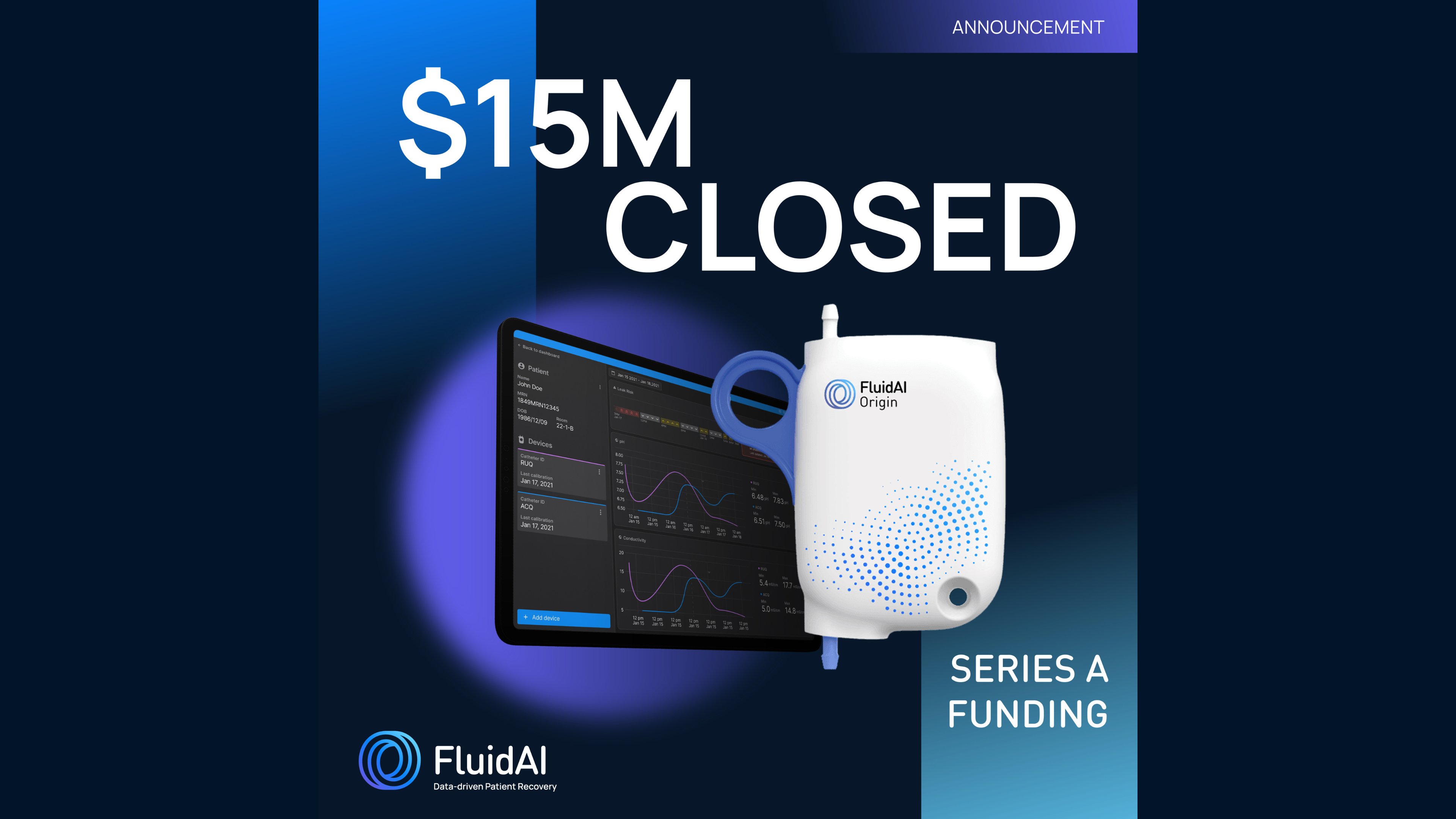 FluidAI Medical Announces $15M in Series A Funding for AI-Driven Postoperative Monitor at HLTH 2023
Kitchener, ON – October 10, 2023: FluidAI Medical (FluidAI), a pioneer in leveraging artificial intelligence (AI) for postoperative patient monitoring, today announced that it has raised $15 million in Series A funding, led by SOSV and Graphene Ventures with participation from Boutique Venture Partners, Threshold Impact, Cur8 Capital, Leva Capital, Kyto Technology & Life Science Inc., Juno Pharmaceuticals, and a number of esteemed angels, funds and government funding organizations.
Following any surgical intervention, there are inherent risks of adverse outcomes, irrespective of how minor or major the procedure may be. These complications can range from infections, bleeding, and wound healing issues to significant disability or death. They not only jeopardize the health and recovery of the patient but also place additional burdens on the healthcare system, including prolonged hospital stays and increased medical expenses. Recognizing these complications early on is paramount for the comprehensive care of surgical patients.
Some of the most devastating complications that can arise after surgery are anastomotic leaks, which occur after surgery when there's a connection (anastomosis) between two parts of the digestive tract. A leak from this connection can lead to serious complications, including sepsis (blood infection) and death. On average, the leak rate stands at 8% across various types of surgeries, but this can spike to as high as 30% in more complex procedures. The condition also comes with a concerning average mortality rate of 12%. Per 1,000 patients undergoing colorectal surgery in the United States, anastomotic leaks add an extra 9,500 days of hospital care and impose an average additional cost of about $50,000 per affected patient.
FluidAI's first solution, Stream™ Platform, uses advanced sensors and an AI-driven algorithm that may prompt surgeons to identify these leaks earlier, helping surgeons achieve better clinical outcomes and efficiencies within the greater healthcare system. FluidAI's timely funding underscores the industry's pressing need for innovative solutions that can ensure patient safety, reduce hospital stays, and ultimately cut down healthcare costs.
"This funding not only validates our vision but also fuels our mission. At FluidAI, our goal is to continuously push the boundaries of what's possible in postoperative care, ensuring patients recover safely and quickly. With the trust and support of our investors, we're poised to make a monumental impact on how data informs care decisions"
"FluidAI is a perfect example of AI-powered proprietary sensing being developed to save lives," said Duncan Turner, SOSV GP. "With FluidAI, surgeons can ensure better clinical outcomes, shorter hospital stays for patients, and cost efficiencies across the healthcare ecosystem. We're thrilled to back the FluidAI team, a passionate group of scientists, engineers and healthcare professionals who are leading this compelling development in post-operative care."
The investment will allow FluidAI to develop deeper medical record integration, expand into existing and new global markets, grow its dynamic team, and introduce novel AI-driven solutions catering to a broader range of postoperative complications.
About FluidAI Medical 
FluidAI (formerly known as NERv Technology Inc.) is a Canadian medical technology company that uses AI to aid with the early detection of postoperative leaks. From general to gastrointestinal surgeries, FluidAI's mission is to empower healthcare providers with data-driven solutions that improve patient outcomes and advance postoperative care. To learn more about FluidAI and how the company is transforming postoperative care, please visit https://fluidai.md/.
About SOSV
SOSV is a global, multi-stage venture capital firm dedicated to funding deep tech startups focused on human and planetary health. Operating programs like HAX, IndieBio, and Orbit Startups in cities from New York to Tokyo, the firm has backed nearly 1000 startups in 60 countries. As of April 2023, SOSV's top health startups boast a combined valuation of $6.47 billion. The firm manages a $277 million core Fund IV and a $100 million Select Fund for follow-on investments, along with the Genesis Consortium that provides extra funding for select life sciences startups. With a diverse team and a portfolio representing 84 nationalities, SOSV is committed to accelerating global innovation. Learn more at https://sosv.com/. 
About Graphene Ventures
Graphene Ventures is a venture capital firm established in 2015, specializing in direct investments in private technology companies. With offices in Palo Alto, Toronto, São Paulo, and Riyadh, the firm has a global reach and is dedicated to helping its portfolio companies scale into multiple markets. The lean but experienced team at Graphene brings decades of expertise in growing high-impact startups, uniquely positioning them to identify promising teams and innovative companies. Learn more at https://graphenevc.com/. 
For further information: Mustafa Obeidat, Strategic Partnerships, FluidAI Medical, +1 (877) 660-6378 ex. 205, mobeidat@fluidai.md