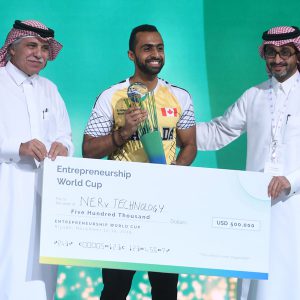 FluidAI (formerly NERv Technology) wins the 2019 Entrepreneurship World Cup
NERv Technology (www.ne-rv.com) emerged victorious through three days of pitching against a group of 100 finalists at the Entrepreneurship World Cup Global Finals. The Canadian startup, an innovative monitoring system for post-operative patients that strives to ensure that no patient loses their life because of an undetected post-operative complication, received a US$500,000 cash prize, a "Shenzen Prize" package to help the company expand into China and in-kind support and services from a collection of EWC partners.
Speaking after the awards ceremony, Amr Abdelgawad, COO and co-founder of NERv, said, "The experience has been absolutely fantastic. We've been around like-minded individuals from hundreds of different countries, speaking different languages, engaging with people from different cultures, but we all have one thing in mind – we're all persistent and working really hard to make our startups a success. To be the winner today is a testament to everything we've been doing, we've been working really hard for five years in order to make this dream a reality."
The EWC global finals in Riyadh were the culmination of a year-long competition organized by the Global Entrepreneurship Network (GEN) and Misk Global Forum, along with strategic partners including the Global Education and Leadership Foundation (tGELF), Global Silicon Valley Labs (GSV Labs) and the King Abdullah University for Science and Technology (KAUST). Over the course of 2019, 102,000 entrants from 187 countries were narrowed down through national and regional finals to 100 startups from 67 countries that took the stage at the global finals. The 100 finalists enjoyed a two-day bootcamp at KAUST to make last-minute adjustments and improvements to their pitches under the eye of expert mentors. The 100 startups were then gradually narrowed down through heats and elimination stages to a final five which were selected by a panel of four international judges, all of them world leaders in business and entrepreneurship, and an audience vote. The top five finalists won cash prizes totaling US $1 million:
1st place: $500,000: NERv Technology from Canada
2nd place: $250,000: Koniku from the United States
3rd place: $150,000: Red Sea Farms from Saudi Arabia
4th place: $50,000: Sumato-ID from Argentina
5th place: $50,000: SUN Mobility from India
Abdulrahman Al Suhaymi, initiative manager with Misk Foundation, said: "Firstly, huge congratulations to our finalists and to NERv Technology. They are truly inspirational. While we called this event the finals, it's really just part of the longer entrepreneurial journey all startups are on together. There are no losers in the EWC; all the entrants are now part of a truly global network of fellow innovators. They've all won the most important things to any startup: global experience, insight into new markets, and potential partners and collaborators. We're incredibly proud and excited for them all and look forward to seeing what they achieve next."
Jonathan Ortmans, president of the Global Entrepreneurship Network, said: "Through the Entrepreneurship World Cup, our focus is on making it possible for anyone – anywhere – to start and scale a new company that solves a problem or fills a need. These entrepreneurs, not just the winners but everyone that participated in this competition, have already taken the next step in their journey by trying, learning and competing. Through their startups and through their passion, they will make the world a better place." In addition to the cash prizes for the top five finalists, the following in-kind prizes were also distributed:
Shenzen Prize: The top 40 finalists all receive a special "Shenzen Prize" package to help expand their companies into China. Presented by the Global Entrepreneurship Network in partnership with the Government of Shenzen through the International Youth Innovation Conference the package includes:

Assistance to land or expand business in China
Investment and Financing Docking
Local Policy Consultation
Team Building and Recruitment
Intellectual Property Life-cycle Service
Technology Transfer Service
Free booth for exhibition at the International Youth Innovation Conference (IYIC) in Shenzen 2020
Global visibility

EWC Global Finalist In-Kind Support + Services: All 100 global finalists receive a package of prizes valued at more than $20 million combined. The package includes offerings from:

GSVlabs: GSVlabs is providing $200,000 in free and discounted services to each global finalist from partners including Amazon Web Services, Oracle, Shopify, Slack and Stripe – as well as access to mentors, investors, hundreds of templates and guides.
Twilio: Twilio is providing credits to access its cloud communications platform that allows software developers to make and receive phone calls, send and receive text messages, and perform other communication functions using its web service APIs.
HubSpot: HubSpot is providing credits to access Hubspot Growth, a full suite of software for marketing, sales, and customer service with a completely free CRM at its core.
GEN Starters Club: The Global Entrepreneurship Network is granting admission for each global finalist to its GEN Starters Club. Members receive access to global connections with experienced entrepreneurs, mentors and investors – offering weekly live workshops and other unique opportunities.
The 2019 Entrepreneurship World Cup was the largest and most diverse global pitch competition of its kind. The next edition of the EWC will launch in 2020, continuing throughout the year to discover and empower new entrepreneurs from across the globe.